Joining the company through the Graduate Programme will provide you with an opportunity to understand the business, build strong relationships, participate in continuous improvement projects and set career objectives, all of which are about preparing you for a leadership role, supporting the development of your skills and knowledge and helping you gain the necessary experience to ensure that you have a successful and fulfilling career within the Health Safety & Environmental Department. Our working environment is like no other. With strong family and entrepreneurial values at the heart of our corporate culture, we promote a social and relaxed feel to our offices, which is reflected in the open-planned layout. We make an effort to hold social events which we feel is an important part of building strong working relationships with colleagues ultimately leading to better communication between employees.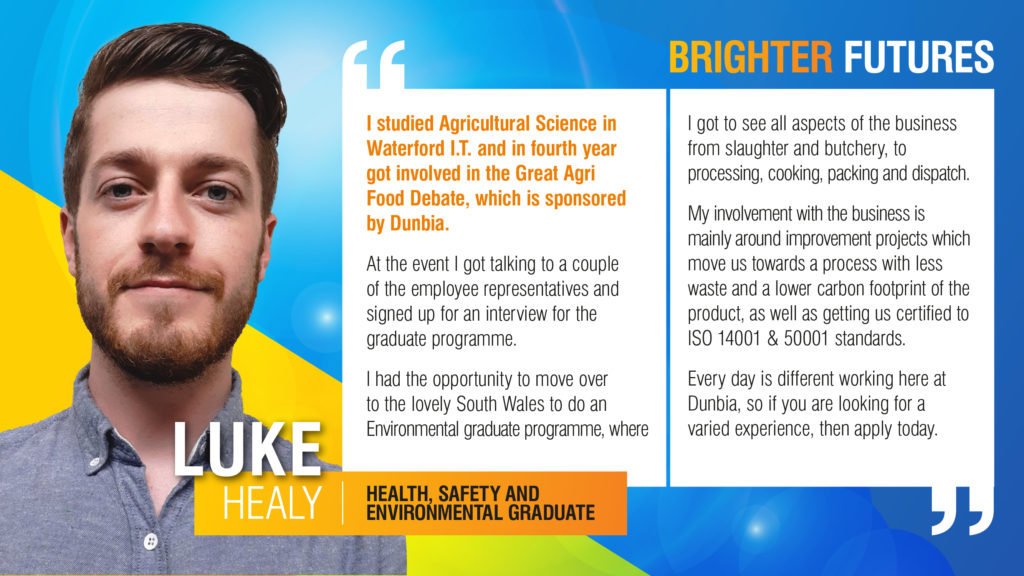 As an Environmental Graduate, you will work as part of a dedicated, driven and supportive team.  As your skills and knowledge develop over time, you will get involved in all aspects of Environmental within the business and your responsibility will increase. 
As part of this exciting team you will gain a wide range of business skills, through continuous on the job development with coaching and mentoring. Your role will see you tackle a wide range of business challenges in a busy environment, working with the Environmental Office and Site Lead some of your responsibilities will include:
Maintaining full compliance of the site E.A. licence and all related communication with relevant external bodies.
Controlling the operation, performance, cost, reporting and resourcing of the onsite Effluent Treatment Plant.
Leading the site energy/environmental team to achieve energy, water, waste, and sustainability measures, through monitoring, analysis and reporting activities, and formatting such to form KPI's for reporting.
Maintaining and improving ISO 50001 Energy Management and ISO 14001 Environmental Management Systems on site.
Implementing and improving site Energy Performance Indicators.
Completing site energy/environmental audits to identify opportunities for improvement.
Undertaking monitoring checks, such as housekeeping audits, odour and noise checks.
Record keeping for compliance and statutory reporting.
Co-ordinating all waste management practices on site in line with group goals.
Liaising with wider Group Environmental team on upcoming sustainability projects and strategies.
Promoting and managing excellent relationships with suppliers and other service partners, i.e. contractors etc.
Managing the Environmental and Energy related training requirements to relevant staff.
Assisting with improvement projects, working closely with Operations, Engineering and other departments.
Working with a continuous improvement mindset
The IDEAL CANIDATE WILL HAVE OR DEMONSTRATE:
·                    A relevant degree in environmental science;
·                    An understanding of operating integrity, quality processes and systems with high standards for compliance and quality;
·                    Strong financial understanding and business acumen;
·                    Excellent communication skills;
·                    Good knowledge of Microsoft Office;
·                    Excellent time management;
·                    Understanding of team dynamics, demonstrating the ability to work as an active and constructive member of a team with a professional enthusiastic attitude;
·                    Excellent attention to detail;
·                   The applicant must have the right to work in UK
Our Brighter Futures Programme
Our training and development schemes are unmatched, and not only will you be learning from fully trained and passionate individuals, but you will also receive:
Dedicated mentor
Direct access to senior leaders
Opportunities to undertake assignments, secondments and innovative project work across the business
Investment in blue chip residential offsite training
Applicants for this role must have a Right to Work in the UK and be able to provide documentation to this effect.
Closing Date 31st August 2022.  Applications will be reviewed as they are received.  We reserve the right to close the role should suitable applicants by found in advance of the closing date.